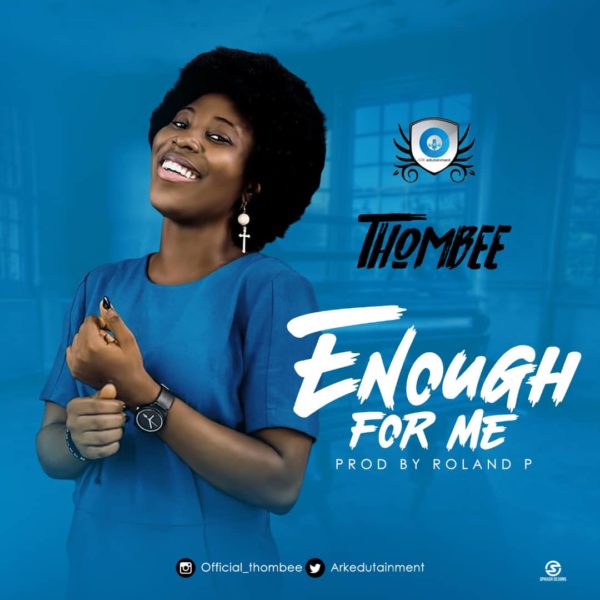 Ark Edutainment record music minister "ThomBee" is an anointed music Minister and a sensational worship leader based in Abuja, Her debut Single 'Enough For Me' is her first official single and enough for me as a song is centered on the selfless sacrifice of Jesus on the cross and Jesus as the only hope of Eternal life for every believer.
The blood Christ shared on Calvary is enough,

The pain and bruises that He endured is enough,

With God, we can live forevermore…

God is enough

Everything He has done for us is enough.
Until we acknowledge God's place, what he has been doing, what He is still doing in our lives we will not see His perfect works in us.
This song is to help you reconnect, help you see needs to worship Him intensely, as you download listen over and over, pray along and You will see more open doors in your life.
God bless you.
[easy_media_download url="https://www.mediafire.com/file/xitb00ijdq8yye4/ThomBee_Enough_For_Me.mp3/file" text="DOWNLOAD MP3″ target="_blank"]
LYRICS
Enough for Me By ThomBee
The blood you shared on Calvary is enough
The pain and bruises that you endured is enough
With you, I can live forevermore
You're enough
Everything you've done for me is enough
What more can I ask
You're the hope of everlasting life
When the last trumpet shall sound
I will reign with you in immortality
Oh oh oh oh oh oh
You're enough for me
Jesus the pain you took for me
The love you show to me is enough for me
Jesus the shame you took for me
The love you give to me is enough for me
CONNECT ON SOCIAL MEDIA
FB – Thombee Thombee
Twitter – @officialThombee
Instagram @official_thombee